Ahhhh…there's nothing like sinking back into a nice warm bath after a long and busy day.
Whether a soak is a luxurious treat for you, or a chance to relieve some muscle pain, it's important to choose the perfect bath for your size and style of bathroom. 
If you're thinking about renovating your current bathroom, picking out a bath for a new home build, or planning a commercial project, there's a few things to think about before diving into the world of shopping for a new tub. 
Here's some tips and things to think about when choosing your next bath.

The size of your bathroom/available space
Planning the layout of a bathroom is a bit like playing Tetris. There's often a lot to fit, all in a limited space. A bathtub represents a significant amount of this space.
But if you plan things out carefully and know all the options available, you can get it to work. It's all about making the best of the room you've got.
Baths for small bathrooms
If you're working on a small bathroom and desperately want a tub, don't despair thinking that you simply can't fit one in. You do have options. 
Shower-over-bath combo
A shower-over-bath combo is an extremely popular and practical choice for smaller sized bathrooms. They are a great option for families as its easier to bathe young children in a bath rather than in a shower. Plus, you can enjoy the versatility of having a shower for everyone else in the family to use.   
However, not everyone is a fan of the shower-over-bath combo. 
In a master bathroom shared by two people, these combo types are less convenient than a separated bathtub and shower, as they only provide one usable bathing area. 
Drop-in bath
If space is tight and you'd still really love to have a separate bathtub, consider a drop-in bath against the wall. This will be your most compact option. 
The BetteStart 1400 is a particularly good choice. It's smaller than your average bathtub but features an ergonomic back angle, so it doesn't sacrifice on comfort.   
Back-to-wall freestanding bath
A freestanding bath can seem like an impossible luxury in a small bathroom, but you might be able to get away with it by going with a "back-to-wall" freestanding bath such as the Argent Vista which is available in 1500 and 1700mm lengths.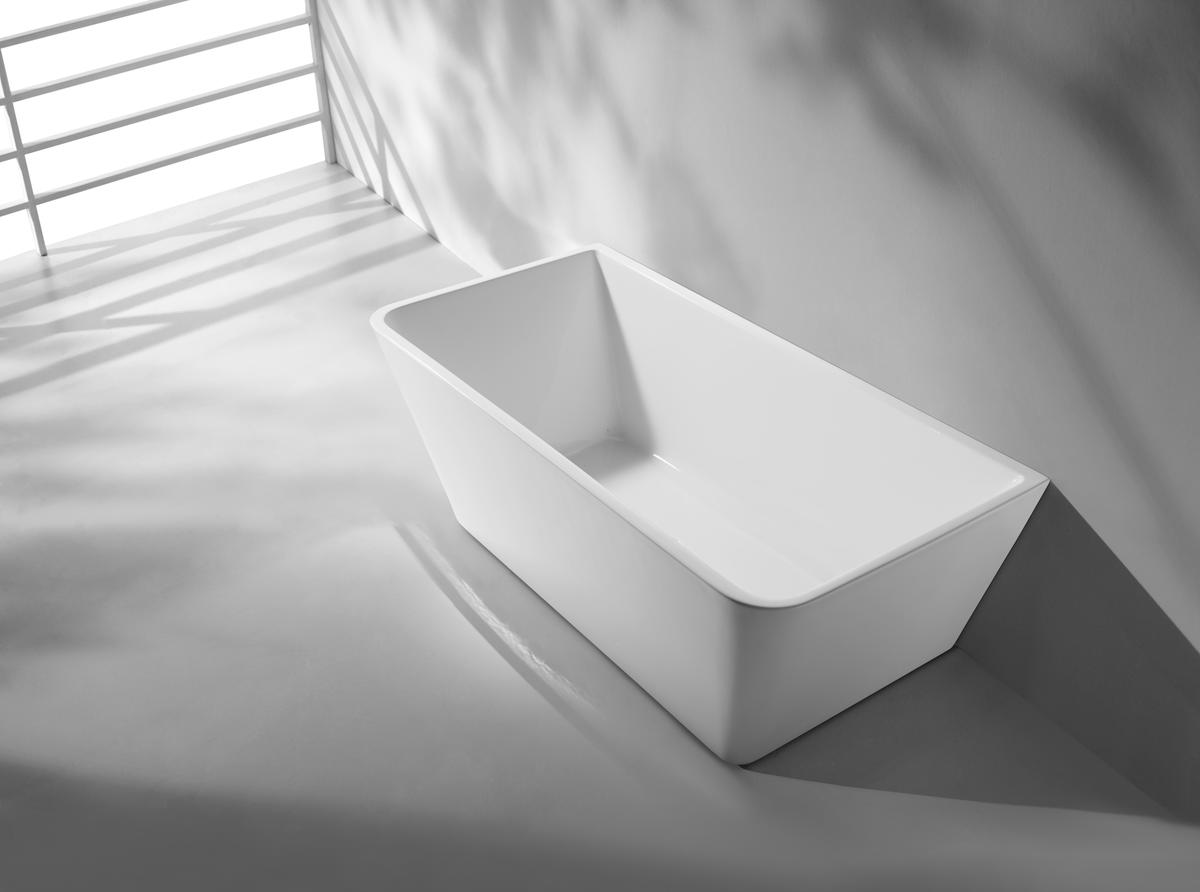 These kinds of baths sit flush against the wall, but also give the appearance of a traditional freestanding bath. So you can achieve the indulgence of a freestanding bath whilst utilising the minimum amount of space.
Baths for larger bathrooms
If you've got space to work with, your bath options are a bit more flexible and exciting.
Freestanding baths 
Freestanding baths have become incredibly popular in recent years. Not only do they look beautiful, but they can act as a real statement piece in a big bathroom. 
You can get really creative with where you position a freestanding bath and turn your bathroom into an oasis of relaxation and tranquillity.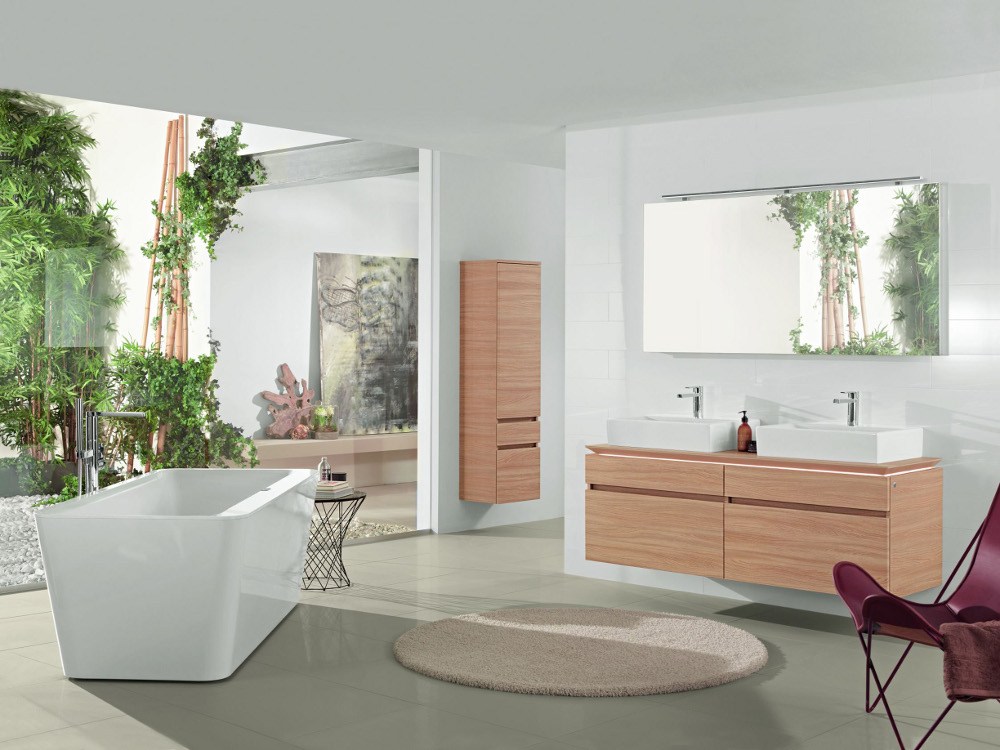 One important thing you do need to consider with a freestanding bathtub is how that bath will be filled. Sure, it might look great to place your bath in the middle of the room, but that presents the need to install freestanding tapware which means additional plumbing work and costs. 
Your other option is to go with a bath that has an integrated bath filler, like the one shown below by Viega.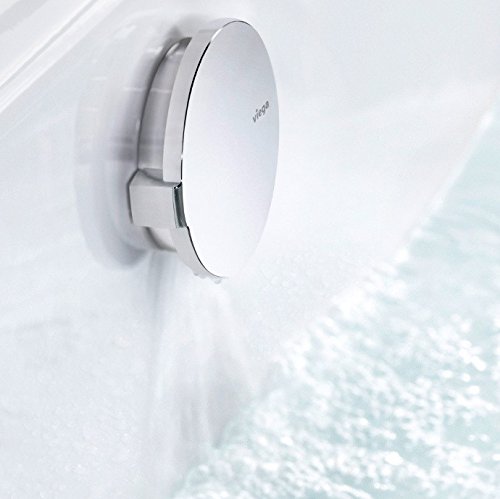 Such an integrated water supply combines the water inlet and overflow in one unit. This creates a more streamlined design, allowing the tub to be filled directly from the waste outlet with no extra taps or fittings required.
Another thing to think about with a freestanding bath is that they may be a little difficult for some people, such as those with mobility issues, to get in and out of. Grab rails on a nearby wall can be an option in such a case. 
Platform / sunken baths 
You don't just have to place a drop-in bath against a wall. If you've got the space, why not opt for a lavish drop-in platform tub? 
A raised platform allows for a sunken bath effect and adds a real "wow" factor to any bathroom. The feeling of stepping down into a nice warm bath, instead of stepping up and over the side, is definitely a luxurious experience. 
You can go all out by adding steps leading up to the platform and add some different height levels to the design of your bathroom.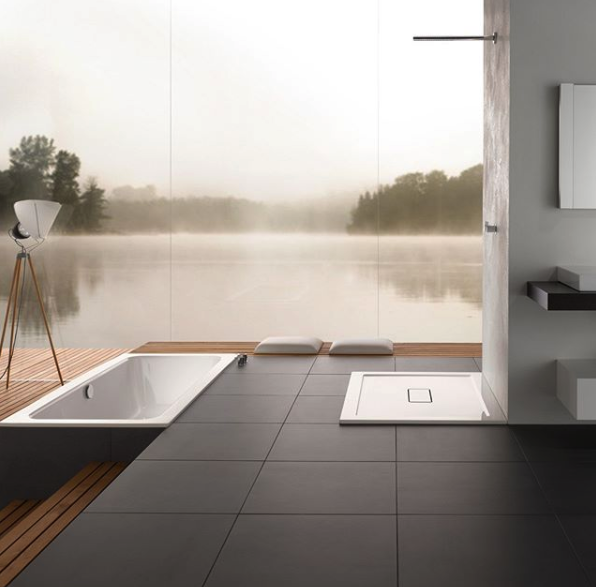 This type of bath isn't suitable for everyone though. They can present a bit of a tripping hazard, especially when there's little kids around. 
Installation is a fair bit more cumbersome compared to any other type of bath. But if you love the style and you've got the space in your bathroom, they can be well worth the extra effort and cost. 
Materials/finishes
Choosing quality materials and finishes are just as important as deciding on the type of bath you want. A new bath can be a significant investment, so you want to be able to enjoy it for as long as possible.  
There's quite a range to choose from, here's a quick rundown:
•    Plastic (fiberglass or acrylic): Won't chip easily but abrasive cleaners can damage the surface.
•    Cast-iron: Coated with enamel and will keep the water warm for a long time. Beware – these kinds of tubs are super heavy, so can be tricky to install if there's stairs/elevators involved.  
•    Titanium steel: These are scratch resistant and have great heat retention. Perfect for wet rooms.  You can even wash your dog in one without having to worry about their claws scratching. Bette have a range of glazed titanium steel baths which are coated with their BetteGlaze® finish, designed to make it easy to wipe all surfaces clean. 
•    Quaryl®: This is a propriety material by Villeroy and Boch. Quaryl® combines the best properties of natural quartz with the versatility of high-quality acrylic resin. 
Intended use
Before deciding on which bath to get, you should ask yourself – how are you planning on actually using the said bath? 
There's not much point in shelling out for a huge and difficult to install bathtub that's not going to get much use, unless your ultimate goal is to increase the resale value of your property. 
By the same token, purchasing a small bath when the size of your family may change significantly in the future also doesn't make for a good investment.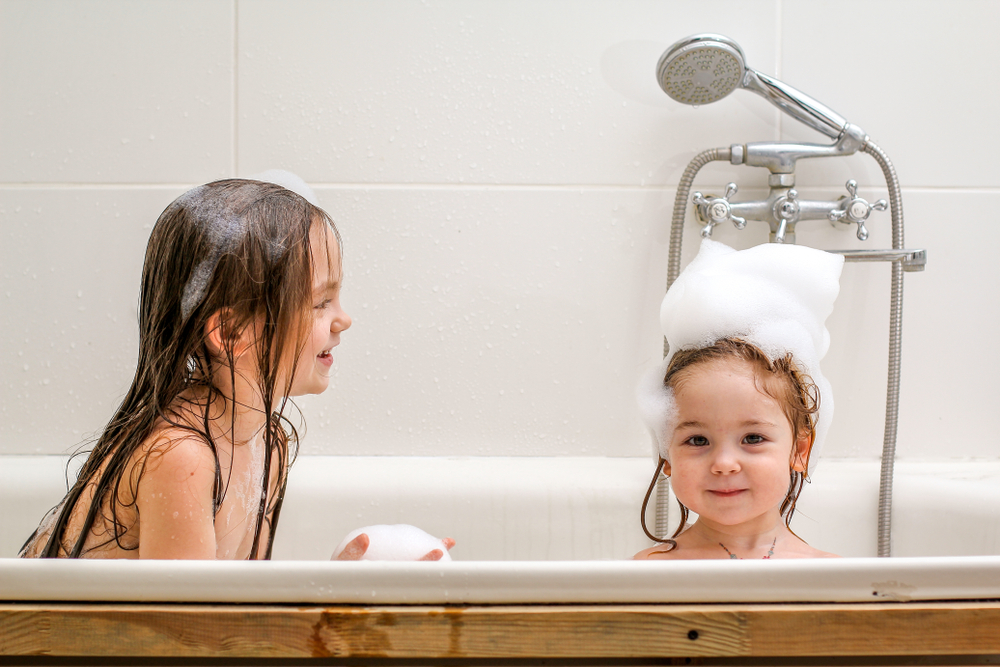 Here's some quick questions to ask yourself before going on the hunt for a new bath:
•    Does the bath need to act as a design feature? Or is it just for everyday use?
•    Will there be mainly one person bathing in it or two people?
•    Is the bath for bathing kids or animals?
•    Is it for relaxation?
•    Will the bath be used for health, fitness or wellbeing purposes? Consider looking into additional Whirlpool options which will stimulate circulation and soothe the body. 
Need help picking the right bath for your bathroom? Talk to the team at arthaus 
Whether you're renovating a home bathroom or working on a commercial project, arthaus is here to help. 
Our bathroom experts have all the right know-how to recommend the perfect products for your needs so that you can make that final decision with confidence. 
Click here to get in touch with us today. We have a dedicated bathroom showroom in Brisbane's Fortitude Valley which is open to the public 6 days a week.  
Or give us a call on 07 3252 6111. We look forward to making your dream designs a reality.