So, you're planning on remodelling your bathroom or you're designing one from scratch. It can be hard to know where to start. Perhaps you've got some ideas in mind about the types of fixtures, fittings and tiles you'd like to purchase. 
But before you commence on an extravagant bathroom shopping spree, there's a few things you should probably do and think about in detail first.
In this blog post, we look at 7 tips to follow before you start shopping for bathroom products.   
1 - Measure everything
First things first...get measurements for everything. If you are renovating an existing bathroom, measure the ceiling height, the width of the walls, your existing shower enclosure and all that is in between. Make sure you measure the distance between things as well, such as the space between any fixtures and the nearest walls. 
Then, draw a mud map, noting the dimensions in detail, including the location of any power points and waste outlets.  Also, list all the materials used in your bathroom, such as what the vanity is made from. Your mud map doesn't have to be anything fancy, but it's an incredibly important tool to show staff when you are visiting bathroom showrooms so they can get an idea of the space you have to work with. Taking photos is a good idea too. 
If you are designing a bathroom from scratch, it's easy enough to get the dimensions off your bathroom floorplan from your builder. 
2- Get inspired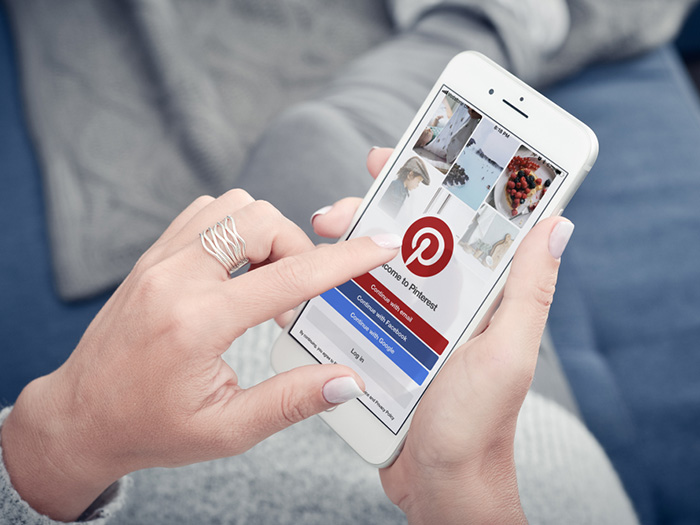 You might be tempted to visit as many bathroom showrooms as you can to look for design inspiration. But this can quickly become overwhelming, especially if you're not sure about the type and style of bathroom products you ultimately want. Plus, you'll wear yourself out running around town trying to see all that there is to see.
Instead, start off by doing some research from the comfort of your own home. There's absolutely no shortage whatsoever of websites, magazines and Pinterest boards dedicated to bathroom design ideas. We recommend Houzz.com.au as a good starting point. 
Create your own Pinterest board or scrapbook of designs and colour palettes that you like. You'll probably start to see a pattern of styles, features, shapes and colours that you prefer. This will help to focus your decision-making process when you do start to shop around in actual stores and you'll be much more confident in what you want when you're talking to a consultant. 
3 - Choose products with functionality in mind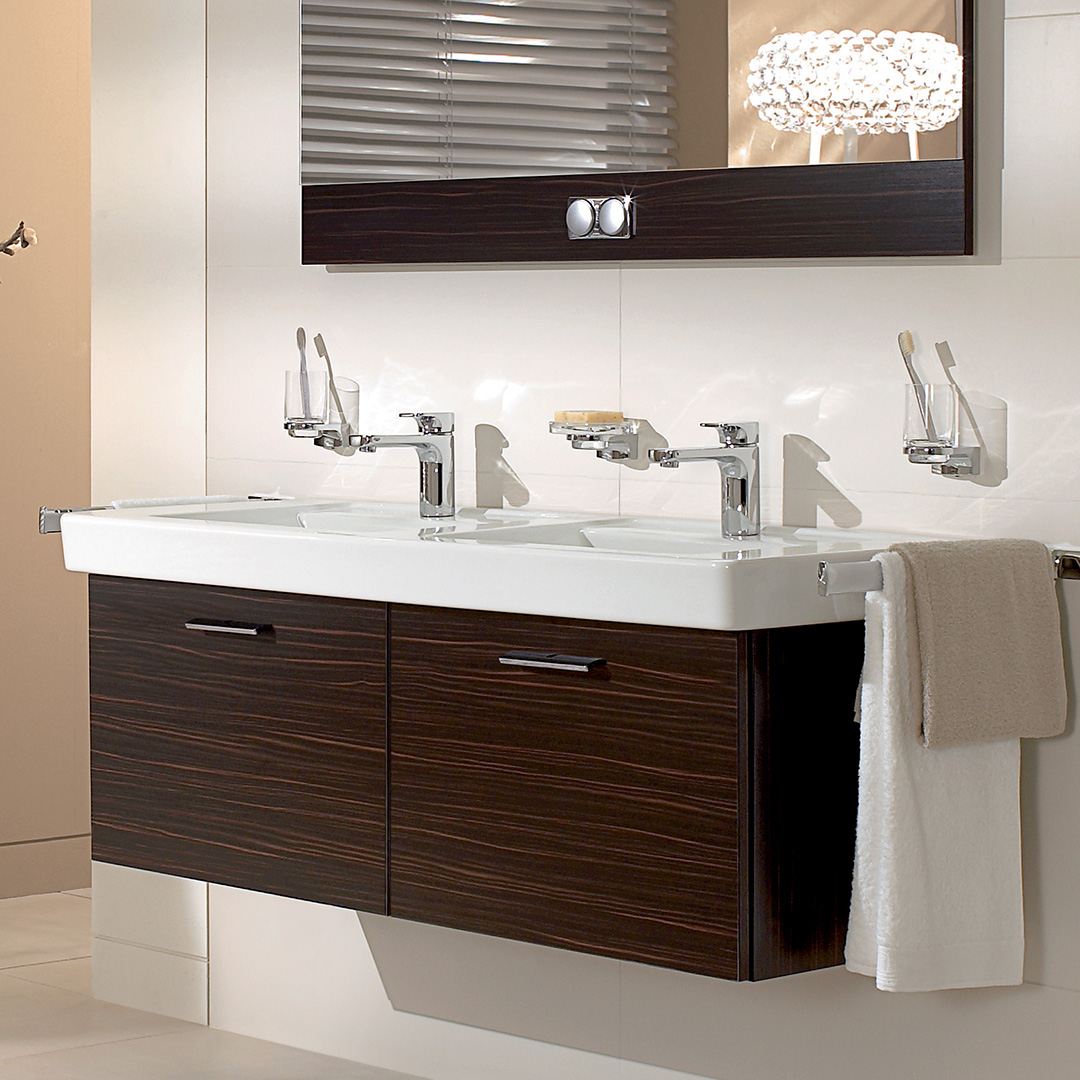 You might not have given it much thought before, but how you and your family use the bathroom/s in your house should influence your purchasing decisions.
Ask yourself - how do you and your family use your bathroom on a daily basis? Is there a mad "peak hour" rush every morning with everyone trying to get ready at the same time? Could you benefit from having double basins so two people can brush their teeth and do their hair at the same time? Having a separate powder room with toilet and basin would free up the main bathroom. 
Do you and your partner prefer showers instead of taking baths? Maybe forgoing a tub and having a spacious double shower would be more suited to your needs. Or if you've got kids and pets, a bath might be a necessity. 
Are you designing a bathroom with the knowledge that you'll be selling your property in the near future? Looking for fittings and features that increase resale value should be your highest priority. Cabinets with soft close doors and statement free-standing baths are always good choices. 
4- Choose products with practicality in mind
It's easy to get caught up in wanting to make your bathroom look beautiful, but it has to be practical too.
Having enough storage is probably the biggest thing people overlook. It's one thing to have a large vanity with plenty of cupboard space, but best utilising this cupboard space is another thing. Drawers are becoming an increasingly popular choice in modern bathrooms as they make it easier to find things and keep your bathroom organised rather than having to rummage around in the back of a cupboard.  
Lighting is another consideration. Placing the wrong type of lights in the wrong locations will create shadows. Cool lighting should be used where there are mirrors to aid with grooming tasks like shaving and warm lighting is best for doing make up. Warm lighting is also better suited for relaxing, so try to opt for such lighting over baths and showers.   
Also, make sure you have enough space on the walls for enough towel racks for everyone who is going to be using the bathroom. A common mistake is installing towel racks too low on the wall. No one wants their big fluffy towel touching the floor tiles. 
Finally, think about the ease of cleaning your bathroom. If you don't really have the time or patience for a high-maintenance bathroom, avoid having too much glass. A good tip for minimising your cleaning is to opt for an undermount basin. This type of basin creates a continuous flow from the countertop, allowing spills to be wiped directly from the counter into the basin. Back-to-wall toilets are also much easier to clean around than their traditional counter parts.  
5 - Make the most of your powder room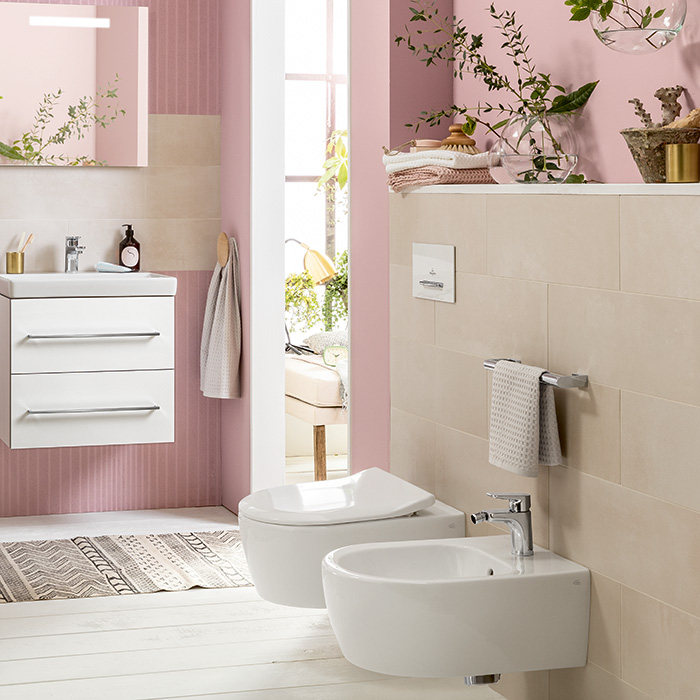 Designing a bathroom isn't all about functionality and practicality. You don't have to stifle your creativity, especially if you have a separate powder room.
Your main bathroom has to serve a lot of purposes, so it makes sense to be strategic with this space. But a powder room is where you can dare to be a bit different. It's only a small space so feel free to be a bit more daring with your colour and product choices. Maybe try a contrasting wallpaper pattern, a mosaic tile scheme or coloured tapware. 
It's much easier to change things around later if you want compared to changing things in your main bathroom. Go on, show off a little bit!
6 - Get organised 
Alright, it's almost time to start shopping around for your new bathroom fittings and furnishings. But before you do, here's an expert tip:
Chances are that when you are designing a bathroom, you are doing so alongside a partner or relative. There are a multitude of free collaboration tools available that enable you to manage your project in a shared online environment, such as Trello.  This will help to have one central place to communicate, document progress, keep track of quotes, product brochures, specification sheets and images.
Also, whenever you visit a showroom, always request specification sheets for the products you are interested in. Keep this information on hand for when you are consulting with a builder or plumber. They will use these details to confirm with you whether or not certain products can be installed within the confines of your bathroom layout. 
7 - Don't let budget limit your style
When purchasing products for a new bathroom, you'll obviously have a set budget in mind. But it's important to not let that budget limit your planning or thinking. It's best to first figure out what you want from your bathroom in terms of look, style and function, then discuss how this can be achieved with an experienced retail bathroom consultant. 
There are a vast array of brands and styles available and an expert can help you navigate these options and select the products that fit both your vision and budget.
Need help deciding on which bathroom products are right for you? Talk to the team at arthaus 
Whether you're renovating a home bathroom or working on a commercial project, arthaus is here to help. 
Our bathroom experts have all the right know-how to recommend the right products for your needs so that you can make that final decision with confidence. 
Click here to get in touch with us today. We have a dedicated bathroom showroom in Brisbane's Fortitude Valley which is open to the public 6 days a week.  
Or give us a call on 07 3252 6111. We look forward to making your dream designs a reality.